The sixth season of Spirit Riding Free premiered with six episodes on Netflix on August 17, 2018.
When a drought threatens Spirit's herd and the townspeople of Miradero, the PALs investigate Grayson's source of water and restore the flow of the river. Mr. Granger stables three Arabian mares for resale, and the PALs have to capture them when they escape so that Pru can prove she is worthy of responsibility. Aunt Cora converts some inspiration from Lucky into a beautiful wedding dress for Miss Flores. Snips and a dust storm threaten Abigail's dream of being awarded an official Frontier Fillies herd. Lucky tries to fulfill her year-old New Year's resolutions on the last day of the year, disappointing Javier in the process. Cousin Julian involves Lucky in a staged heist scheme so that he can be initiated into a secret club for overprivileged troublemakers. A series of fiascoes thwarting Lucky's dad's wedding preparations seem to be manifestations of a curse, but they're nothing in comparison to the vengeful return of frontier bandit Butch LePray.
Official description
Life in Miradero continues to be exciting as the PALs help prepare for Jim and Kate's wedding, start their very own chapter of the Frontier Fillies, and try to keep up with some wild Arabian horses! Lucky, Spirit, and all their friends go on more exciting adventures in all new episodes of Spirit Riding Free, on Netflix this Friday!
Episode list
Trailer on YouTube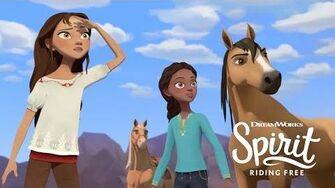 Compositing errors in announcement image

The season was announced on DreamWorks Animation social media accounts on July 17, 2018.[1][2] A trailer was released to Facebook[3] and YouTube[4] on August 13, 2018. An image of Javier and Lucky riding Hacheta and Spirit, respectively, with the stylized caption "One Month", was used to announce the season on DreamWorks Animation social media accounts. Although the "One Month" announcement image evokes a similar frame from "Lucky and the Rough Ride", the relative positions of Lucky and Javier are reversed, and the image shows some odd compositing errors. Hacheta's reins float outside of Javier's hands instead of being held inside them, and Lucky appears to be positioned in space behind Spirit rather than astride him.
References
=