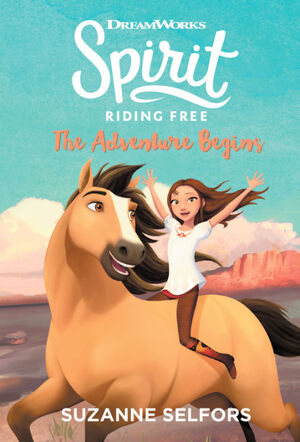 Spirit Riding Free: The Adventure Begins is a book by children's author Suzanne Selfors, first published May 2, 2017 by Little, Brown and Company. The book is an adaptation of "Lucky and the Unbreakable Spirit", the pilot episode of the Spirit Riding Free TV series, that fleshes out a number of details and adds scenes and characters. Expansions to the episode include a prologue set at Lucky's school and home in the city, a visit to the Gutierrez house, a subplot involving Aunt Cora trying to found a ladies' organization, and epistolary interactions between Lucky and her city friend Emma. In a variety of ways, the story of the book diverges from the chronology of events in the TV series.
Differences between the book and the show
Audiobook

An unabridged audiobook edition, read by Saskia Maarleveld, was published the same day as the book and is available on CD and on Amazon's Audible service.
Links